Plan now to join us for the third biennial HIV Research
for Prevention conference, HIVR4P 2018, 21-25 October 2018 in Madrid, Spain!
The future of the HIV response is prevention…and HIVR4P 2018 is the world's first and only scientific meeting dedicated exclusively to biomedical HIV prevention research.
Whether your field of study is antibodies, vaccines, PrEP, rings, treatment as prevention or long-acting prevention tools…
Whether your focus is basic science, clinical trial design, implementation or evaluation… 
HIVR4P is uniquely focused on prevention research. HIVR4P responds to a growing consensus that effective HIV prevention requires a combination of approaches. This groundbreaking conference supports cross-fertilization between all areas of HIV prevention research, while also providing a venue to discuss the recent findings, questions and priorities specific to each.
Join an expected 1,500 leaders in HIV prevention research, programs and policy at HIVR4P 2018, 21-25 October in Madrid. Watch this space for updates on the conference program, including global and regional leaders presenting across dozens of research-driven sessions, plenaries, symposia, roundtable sessions and satellites at HIVR4P 2018.  
The updated HIVR4P 2018 website premieres 29 January 2018.

MEET THE HIVR4P 2018 CONFERENCE CHAIRS

José Alcamí, 

M.D., Ph.D.

Instituto de Salud Carlos III (Spain)

Susan Buchbinder, M.D.
San Francisco Department of Public Health (USA)
Mike Chirenje, M.D.

University of Zimbabwe (Zimbabwe)

Georgia Tomaras, Ph.D.

Duke University (USA)
A word about our host city…Madrid
"There has never been a better time to visit the Spanish capital, Madrid" said the New York Times (21 Sept 2017). Click on the link below to enjoy a short video on everything Madrid has to offer the visitor.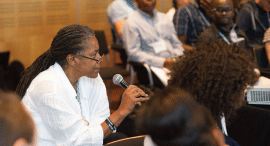 The conference theme, 
"From Research to Impact"
Each HIVR4P meeting comes at a unique time in the global HIV response. The premier HIVR4P conference, held in Cape Town, South Africa in 2014, chose "Shaping the Science of Prevention" as the theme for the world's first crosscutting HIV prevention science meeting.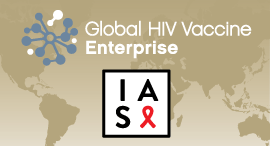 Global HIV Vaccine Enterprise partners with the International AIDS Society (IAS)
In September, 2017 the Global HIV Vaccine Enterprise, which serves as secretariat for the HIVR4P conference, announced
 that it would partner with 
IAS
, the world's largest association of HIV professionals, to host and administer the Enterprise programs. 
Become a Partner
for Prevention
HIVR4P would not be possible without our conference partners, whose generous support helps to keep conference registration fees low, funds conference scholarships, networking and educational opportunities and provides access to the meeting's scientific content to a global audience of researchers, policymakers and advocates. Registration fees cover less than 20% of the cost of HIVR4P.  The rest comes from organizations like yours. Your support and partnership are essential to ensuring the HIVR4P provides the scientific direction, information and inspiration to move HIV prevention research forward.

For more information about becoming a Partner for Prevention, please contact
Sign up for updates from HIVR4P 2018
Planning for HIVR4P 2018 is well underway.  Keep on top of the conference news and receive regular updates from HIVR4P 2018 by signing up
here
.  And watch this space for more updates from HIV Research for Prevention (HIVR4P) 2018.
Harnessing the communities' voice for cancer prevention
Uganda Alliance of Pactients' Organisations (UAPO) is one of the Organisations being supported under the Strengthening Organisations for a United Response to the Cancer Epidemic (SOURCE) Program which is being funded by the American cancer society. UAPO conducted its practicum activity of raising cancer awareness on 26th July 2018 at Kisenyi Health Centre IV, Rubaga, under the theme "Harnessing the communities' voice for cancer prevention". With support from UWOCASO and the Kisenyi Health Centre team, services including screening for breast, cervical and prostate cancers, as well as information on cancer were offered and testimonies from cancer survivors were shared. This was to increase awareness on different cancers and to encourage and give an opportunity to be screened at no cost.  A total of 561 people were reached through this program including patients, healthcare providers, care givers and other stakeholders. 253 women were screened with 107 for breast and 146 for cervical cancers. Out of those who screened for cervical cancer 2 women tested positive and were referred to the Uganda Cancer Institute for further management. Only one man was screened for prostate cancer. Join us for a united response against cancer as we create awareness in communities in Uganda!
Read more about the event on
http://pressug.com/uapo-takes-cancer-awareness-campaigns-to-health-facilities/.
ESMO Summit Africa 2018 | Cape Town, South Africa | Oncology | ESMO
The ESMO Summit Africa 2018 is held in Cape Town, South Africa: 14-16 February 2018
Global NCD Alliance Forum 2017
Stepping up the pace on NCDs: making 2018 count
The second Global NCD Alliance Forum is scheduled for the 9th-11th December, 2017, in Sharjah, UAE. It will provide a prime opportunity to unite and mobilise NCD civil society ahead of the 2018 UN High-level Meeting on NCDs.
Read more:
http://ncdalliance.org/global-ncd-alliance-forum-2017
IMPROVING PATIENTS'ACCESS TO DIAGNOSIS OF CARDIAC DISEASE IN UGANDA
UAPO in Partnership with LevMed will launch the LevMed ECG Mobile Kit to improve patients access to early diagnosis and treatment of cardiac disease. The event will take place on 10th October 2017 at Uganda Heart Institute Mulago National Hospital, Kampala.
African Regional Meeting, 2017
On 4th – 5th July 2017, 30 of IAPO's member organizations and stakeholders, representing ten African countries, came together in Entebbe, Uganda, to attend our African Regional Meeting. The meeting culminated in delegates making a united call for a patient-centred African Medicines Agency (AMA), in which patients are meaningfully engaged. The meeting, which was co-hosted by the International Alliance of Patients' Organizations and the Uganda Alliance of Patients' Organizations, saw IAPO members taking part in and actively contributing to a wide range of interactive sessions, workshops, and networking activities. Delegates engaged in lively and fervent discussions around the on-going African Medicines Regulatory Harmonization (AMRH) initiative, exchanging views and perspectives on how African patients can be feasibly and meaningfully involved in the establishment and future development of the African Medicines Agency (AMA), which is set to be launched by the end of 2018.
UAPO annual meeting 2013
The Network for Patients held its Annual Meeting in October 2013 at Community Health And Information Network Offices, inviting all the members of the Network for Patients to join us to discuss what the most important issues were for patients. The Annual Meeting was an opportunity to share information with other charities and to discuss the work of the Network for Patients. WHO country representative spoke to the members of the Network for Patients on how to engage with private sector bodies on the Health and Social Care. There was a great turnout of over 80 members and we were particularly pleased to see a lot of new patient groups there, many of whom have agreed to join the Network for Patients as full members.
We looked at the success of the year gone by and planned ahead for 2014. We had a very interesting and productive day and look forward to updating you on the program and advocacy activities decided at the meeting as we progress.
One of our key pledges from the meeting, "access to treatment" focuses on the need for patients to be able to trust UAPO is making sure they are getting access to the best treatment and the best services. Access to information is the best way to make sure this is happening and patient support groups are ideally placed to provide this information.
The community Network for Patients enables health & social care groups to work together on areas of common interest and these are vital. As a united voice, we have a far greater opportunity to influence the matters that are so important to the patients we all exist for .We are therefore delighted to be part of the Network for Patients as it leads on the fight for patient centered health care in Uganda. If we can secure this on behalf of everyone whose life has been, or will be, affected by diseases, it means we are one step closer to ensuring no-one has to suffer in silence of diseases.
Increasing awareness and influencing  policy reform on Hepatitis B in uganda 2014
VHT Public hearing on promoting medication safety.